Quotetool Explained - Volume 1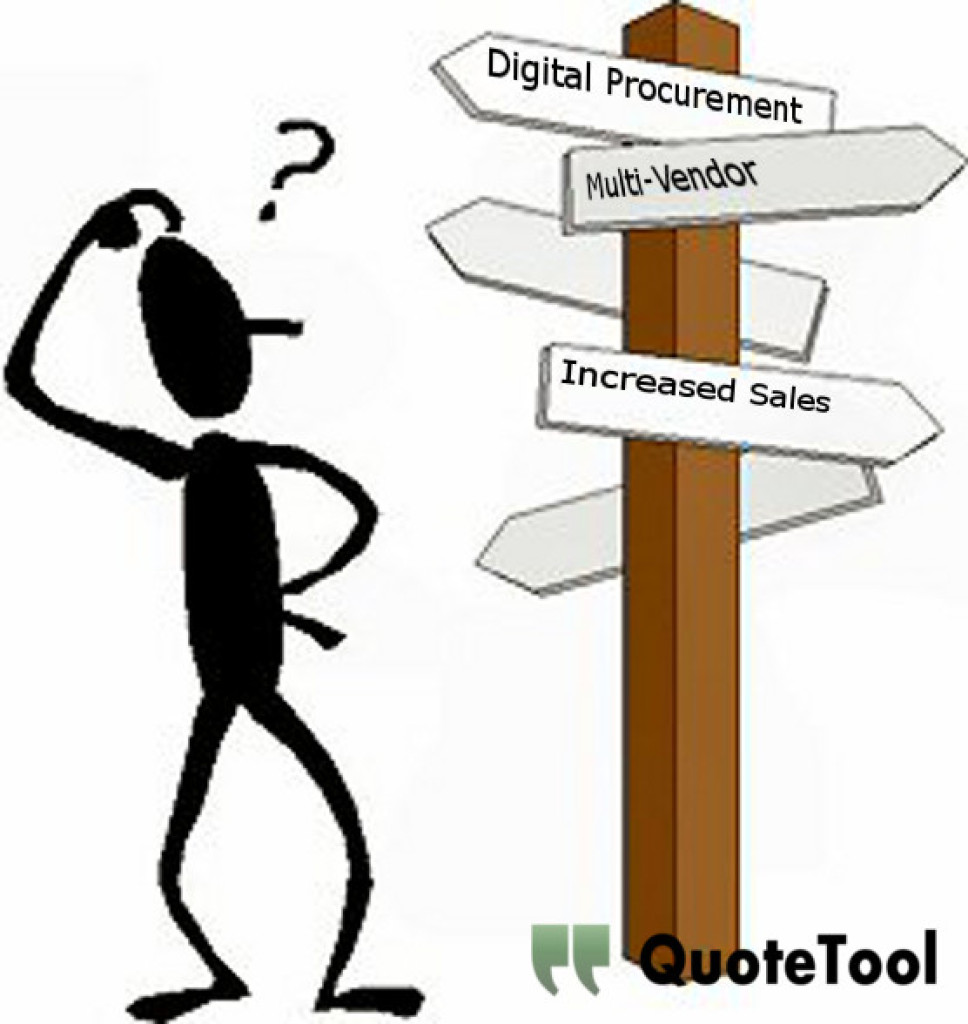 In a recent survey of our existing QuoteTool users, it was brought to our attention that there still is some confusion surrounding what QT's new features are what they do and where they can fit.
We've decided to release a couple of blog post, underlining and explaining some of the great features. Welcome to QuoteTool Explained Vol. 1
Multi-Vendor, Inventory, and reports
Laura is the buyer for a medium sized Fashion company. Fashion Inc, has about 50 employee's all of whom rely on Laura to get them what they need when they need it.
One of the CEO's requirements is that Laura always tries to find the best price for anything that she needs to buy, Stationary, IT equipment, replacement Toners and Inks for the printers and photocopiers. So Laura has a list of suppliers she uses and when she gets a request for anything from the staff members, she will send emails to these suppliers wait for them to respond (which sometimes takes until the next day) and cuts a purchase order based on the lowest price.
No Problem right?
Well… Laura often forgets who asked for the order to be made in the first place so doesn't know which department to allocate the purchase to. She also forgets to follow up with the supplier for product delivery information sometimes and depending on the urgency of the particular requirement, she sometimes gets grief for not being on top of the order.
Further to all of this Fashion Inc. has a stock room full of product for office use. Unfortunately, no one takes the time to check the stock room because often it is easier to just order another one.
Is QuoteTool the Solution?
QuoteTool may or may not be a solution but let's take a look.
Stockroom inventory control
Our inventory feature would allow Laura to take control of the inventory in the stock room and give everyone access to what's in there in a digital format. Any further orders from suppliers would automatically be added to inventory unless they were allocated to use, (ie Suzie used a box of paper for the Fall Mall Fashion Show flyers)
Multi-Vendor RFQ's

When Jim from Accounting needed a new toner cartridge, he was able to submit his requirement through QuoteTool. This request automatically triggered a notification for Laura who picked the suppliers and submitted an RFQ to ABC Toner, Toner 'r' us, and Tony Tony Toner. All 3 suppliers responded to the RFQ within minutes in QT, Laura picked the best price and delivery time as outlined in the individual quotes, entered her PO number and submitted. Just a few minutes later Laura and Jim were both notified that the Toner had shipped and Tony Tony Toner really appreciated their business.
The process that used to take hours even days, has been digitally automated into a few minutes from start to finish.
Reports
Oh, I forgot to mention how happy the CEO of Fashion Inc. is now. Since Laura moved to QT, she's cut operational costs by 25%. The inventory that has been sitting in the Stockroom is being utilized, operational buys are being allocated to the proper department budgets, her pricing from her suppliers has dropped because of the competitive, transparent, new procurement process and to top it all off Laura has gone as far as running reports in QuoteTool telling her what commodities they use and how often they use them. Allowing her to negotiate better pricing for larger quantities with their suppliers and using the purchasing power Fashion Inc didn't realize they had. I don't know about you but I think Laura needs a raise.
QuoteTool.ca Save time, Save Money! And maybe get a raise?
Have you ever sat back and wondered what the pen on your desk costs? See how streamlining procurement can help.
So one stop shopping isn't financially responsible, but it is both a business and consumer goal. So what is an SMB to do?
Our single point Network connects you together with all your team members, all of your suppliers and all of your customers in one place.